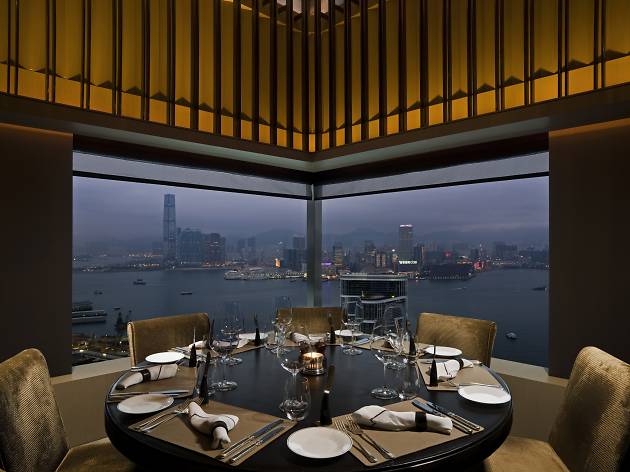 Time Out 說
溫馨提示:疫情期間,請向店舖或場地查詢確實開放時間。
Decent European dining from New York by celebrity chef Gray Kunz
Café Gray opened in Hong Kong not as a sister establishment, but as the flagship itself – replacing the original New York restaurant, which closed last June. It's hardly surprising then that Chef Gray Kunz spent months in a test kitchen in Sheung Wan, training his disciples for their big moment.
Freedom from the hell-hot media spotlight of New York City, you would think, would have encouraged Kunz to play with the form of his enviable, and much copied, recipes. Such has, unfortunately, proved not to be the case. The dishes here are his classic hits such as his braised short ribs and saffron pasta fiori – none of them a surprise if you have been to his earlier eateries.
With its location, white-glove service, braggable newness, and the fact that the celeb chef himself is in the kitchen planning, prodding, and wiping down the very dish that will be brought to your table (not all celebrity restaurants can claim this) this is quite a remarkable place.
Kunz returns to Hong Kong (he formerly headed the kitchen at The Regent's Plume) after earning his stars at Lespinasse, Café Gray, and Grayz in New York. Lespinasse received a full-star rating in the New York Times for its "restless search for new flavour combinations".
All things considered, Hong Kong might be the least expensive place to experience Kunz in its totality – $250 will buy you lunch and $550, dinner (sans beverages) – and for this we have much to celebrate. Best known for his instinctive use and understanding of ingredients, Kunz respectfully churns out dishes that play on Eastern pedigrees using well-honed French techniques. Make no mistake; he is one of the most progressive technicians in the food world today. His recipes are obsessive and, we are told, so is the man.
Each dish is beautiful and thoughtfully rendered – in terms of ingredients, preparation and presentation, there is little to find fault with. The humble-seeming saffron pasta fiori ($115) – steeped in fragrant tomato concassé, perfumed with thyme, and wrapped in a sheet of satiny pasta has a quietly complex charisma. The sauce starts off acidic, but moves to a rounder tomato-cream finish, the thyme butter delivering the final flourish. Big flavours for a small appetiser.
Indeed, with such big flavours, some dishes run the risk of being overwhelmed with competing senses. At the time of this review, the seasoning needed toning down. While we appreciate the use of exotic salts, the hand in the salt pot was a tad too heavy. Such bold flavours may have worked in New York, but whether they are to the liking of Hong Kong's subtler palette remains to be seen.
The hand-chopped steak tartare with Kunz-made ketchup and potato chips ($145) shows off his flair for texture. Creamy, savoury, tiny cubes of beef were cut of their fat by a vinegary tomato base. The thin waffle chip dunked into the tartare was a gourmet play on French fries with ketchup. Clever.
An island of leek-tied sea bass with watercress, coriander and ginger bouillon ($205) floated in a bowl of clear consommé so powerful, it forced us to rethink the term "liquid". The fish was cooked as a perfect piece of fish should be – even throughout, plump, naturally sweet, and flaked pleasingly into soft hunks. A side of spätzle was lightly browned and dosed in butter – and while it seemed an odd accompaniment at first (perhaps from his Swiss lineage), the two, though served separately, worked well together.
The braised short rib ($300) on a bed of soft polenta (a special from his Lespinasse days) was most indulgent in flavour. A square of slow braised beef short rib lacquered with a garam masala spiked stew-gravy mixed with a pool of Meaux mustard sauce on the plate. Here, two strong flavours came together for a wonderfully evocative dance. This is true pleasure on a plate.
Kunz is known for his desserts, and the chilled watermelon soup ($50) cleansed and delighted our palettes in equal measures. Indeed, the bowl of finely diced watermelon that arrived in a lemon-balm soup was one of our most memorable dishes in recent memory. It instantly put a smile across our faces. Love at first bite! Its sweet perfume had washed our tongues of all they had experienced in the last hour, setting us back to neutral. Surely there are few higher compliments to be paid for the finale in a rich meal.
Mention should also be made of the incredible wine cellar amassed by head sommelier Kimberly Drake. Wine Spectator should definitely have a good look when it comes to award time.
詳情