Heads up! We're working hard to be accurate – but these are unusual times, so please always check before heading out.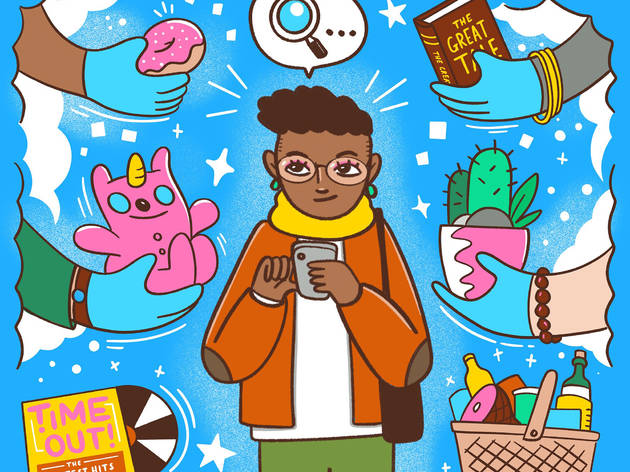 Love Local: why you should shop local this holiday season
We're supporting local business, food, drink and culture in cities worldwide – and we need your help
Hi everyone,
It's been quite a year, hasn't it? After shutdowns and reopenings across the world, we're moving into a festive season like no other. Social distancing is a fact of life for the foreseeable future, and that spells danger for the places that make city life worth living.
🎁That's why, throughout this year's holiday season, we're asking you to shop local to support your city. 🎁
Throughout November and December, we'll be supporting and celebrating local businesses in cities worldwide, using our platform to promote local makers and venues.
📍 Across our city platforms, we'll be running amazing digital and IRL small business events to support local spots in multiple cities.
🛍️ We'll also be pointing you towards the best gifts that also give back to your city – whether it's a knick-knack from a local maker, a voucher for a meal at independent restaurant, artwork from an indie gallery or tickets for a 2021 concert. (And of course, we'll do our best to give you some great deals too.)
🛒 And we'll be turning Black Friday into Independents Day, hijacking one of the year's biggest spending days (which falls this year on November 27), and turning it into a day to spend money with independent businesses.
Why? Because our editors have been seeking out the best of city life since 1968. We know that our cities are nothing without their shops, restaurants, cafés, bars, pubs, theatres, music venues, nightclubs, cinemas, art galleries – and all the other local, independently run places that rely on regular footfall and customer spending.
We're determined to help. Back in May, we launched our Love Local campaign to support the small businesses that represent the soul of the city. And this holiday season, we're stepping it up.
Get more information on what we're doing in your city:
🇺🇸 New York
🇺🇸 Chicago
🇺🇸 Los Angeles
🇺🇸 Miami
🇺🇸 Boston
🇨🇦 Montreal
🇬🇧 London
🇪🇸 Barcelona
🇪🇸 Madrid
🇸🇬 Singapore
🇭🇰 Hong Kong
🇦🇺 Sydney
🇦🇺 Melbourne
Wherever you are, we'll help you discover and support the amazing local businesses that make our cities great.
Throughout 2020 and beyond, we'll be devoting ourselves to supporting and celebrating small shops and food, drink, arts and culture spots. Our editors across the world will raise awareness of venues that need your help, shout about the places that deserve your support, give businesses a platform to reach new customers and celebrate the best neighbourhood spots in cities worldwide.
And finally, to the businesses going through a tough time right now: know that we're with you. We'll do this together.
James Manning
International Editor
Time Out
Love Local around the world